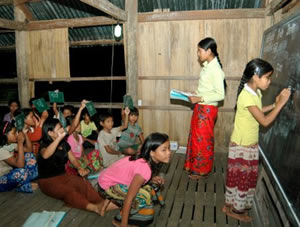 photo by Ari Vitikainen
What is ICC – LRD?
ICC – LRD's purpose/vision is to serve language communities throughout Cambodia, building capacity for sustainable language-based development, by means of language research, translation, bilingual education, training and materials development.
LRD = Language Research and Development
What need is ICC – LRD meeting?
Each language of the world is uniquely rich, and the identity and cultural integrity of the people who speak that language is intimately tied to it. ICC – LRD aims to help language communities of Cambodia to be involved in ongoing development of their language, to address their felt needs, and to be competent to participate in national affairs as respected fellow citizens.
What work is ICC – LRD involved in?

Documentation and Preservation
A big part of language research and development is documentation and preservation: helping mother tongue speakers to document the grammatical and semantic features specific to their language through grammatical analysis, the formation of dictionaries and spelling authorities, and the compilation of mother tongue-authored cultural texts that document their cultural distinctions.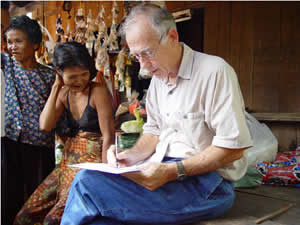 photo by Ari Vitikainen
Language Survey
As a recognized center for information for language research and development, ICC – LRD's vision is to help facilitate sociolinguistic surveys in order to evaluate language vitality and bilingualism ability, better define dialect and language boundaries, and gather other unique linguistic and cultural data.
Orthography Development
ICC – LRD advocates and helps facilitate the preparation of adequate, recognized orthographies for each of the indigenous language communities in Cambodia.
Education
Reading and writing skills are not helpful unless one has the motivation and opportunity to use these skills in the day to day struggles of making a living and helping to develop one's community. ICC – LRD sees a strong connection between literacy and development, whereby motivated individuals and communities build on their existing knowledge networks by using new skills acquired through reading and writing, and can make good use of available resources in order to stand on their own feet and participate effectively in the affairs of the wider community.

In cooperation with the local community and the Ministry of Education, Youth and Sports, ICC – LRD has developed bilingual non-formal education programs for five different language groups in Ratanakiri and Mondulkiri provinces. These programs teach literacy and numeracy as well as life skills in the mother tongue, and build a bridge to the national language education. Opportunity to learn life skills and academic knowledge in the language that the students understand best is crucial for the future academic success and for generating interest towards lifelong education.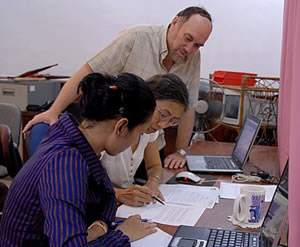 photo by Ari Vitikainen ICC – LRD's bilingual education programs not only provide older students with basic literacy, numeracy, and life skills, they also help younger students to transition to the mainstream education system. Lifelong education is encouraged by post literacy materials production and community-managed village libraries that provide both Khmer and mother tongue materials.
Translation
ICC – LRD advocates and capacity builds Mother Tongue Translators to prepare quality, meaning-based translations of resources that help them meet their social, cultural, political, economic and spiritual needs.
What are the hopes of ICC – LRD?
ICC – LRD is concerned for the vitality and viability of minority languages of Cambodia. This concern is not only for the linguistic features of the language, but also for the people who speak them, and for the cultures they express. As a consequence, ICC – LRD aims to help Cambodian language communities carry out their own language development and to enjoy the benefits of that development.