What is ICC – ACTS Project?
The ICC – ACTS Project aims to help children from poor backgrounds access public education and, through this, open doors for both their own futures and those of their families.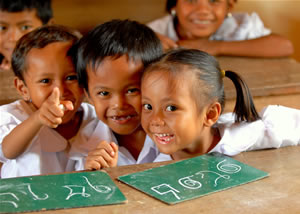 photo by Ari Vitikainen
ACTS = Assisting Children To School
What need is ICC – ACTS Project meeting?
The public education sector in Cambodia faces several major challenges in terms of both accessibility and quality of education.
The current system of requiring students to pay their teachers often hinders the poorest children from accessing even primary school education. In addition, the quality of education often suffers as a result of large class sizes (anything up to 80 students per class) and the appointment of teachers with little or no teaching qualifications.
This situation is compounded by the reality that families who live in poverty often prefer to involve their children in helping to run the family business, such as rice farming or rubbish collecting, rather than send them to school. There are some cases in which the children themselves are even reluctant to attend school as they enjoy earning the money from their work.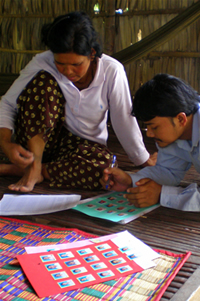 In what ways does ICC – ACTS Project work?
ICC – ACTS Project was established in response to these challenges and now works closely with parents, teachers and children to ensure the best progress of our selected children's education.
In early 2006, an ICC – ACTS Project survey identified a large number of children living in Stung Meanchey (a district of Phnom Penh), Kampong Speu Province, and Takeo Province who were unable to attend school and lacked even basic shelter and food because of their poverty. It is these children whom we have chosen to work with, focusing especially on:
Children from 'broken' families, where one or both parents no longer cares for the child
Children that have experienced some sort of trauma in their lives
Children whose parents have a low income, that is, below the poverty line in Cambodia
The focus of ICC – ACTS Project, a 10-year project operating from 2006 – 2016, is on ensuring that previously un-schooled children from five villages in three separate parts of the country have access to public education, from pre-school through to primary school and on to lower-secondary school (at least grade 9). This plan is in line with the Government's own strategy for providing education to children from poor families.
Every school year, we select 160 children to be sent to pre-school, while those children previously selected continue their studies with the next school grade. As part of our support to these children, ICC – ACTS Project provides study materials, transportation (in areas where children live far from the nearest school), extra-curricular studies and one-on-one support in one of our three children's centres.
In this way, the selected children have the opportunity to review their school work under the supervision of a qualified teacher who uses creative teaching methods along with recreational activities such as singing and dancing to ensure that they are making good progress with their education.
Snacks are also distributed to help boost the overall nutrition of these children, along with some basic personal health and hygiene lessons. Personal manners and life skills are also taught at our children's centres to ensure that these children are supported in their personal and social development as well as their education.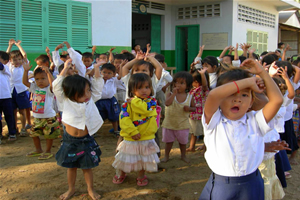 We do not limit our activities to just children, but also work directly with their parents, helping them to understand the importance of education, good parenting, basic healthcare and the rights of their children. In addition, ICC – ACTS Project staff also assist parents to look for income generation opportunities so that these families can increase their independence and afford to send their children to school once the project has finished.
What are the hopes of ICC – ACTS Project?
At ICC – ACTS Project, we believe that providing education – even if only a little – can have a big impact on the life and future of a young person. We also believe that education is a basic right for all children around the world, a belief which drives us to encourage both families and local authorities to take their responsibility seriously for ensuring that children and young people receive a good education in Cambodia.
Through education, we hope that the poor and disadvantaged children of Cambodia will have access to greater opportunities for the future, enabling them to help their families escape the cycle of poverty. ICC – ACTS Project looks forward to the day when these children become good citizens, confident of their identity and willing to work to improve the future of their country.