ICC – VOTC Project
What is ICC – VOTC Project?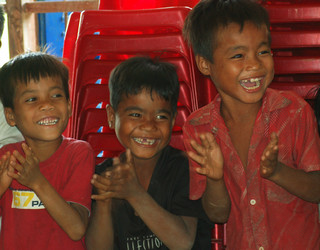 photo by Josefin Wikholm
The ICC–VOTC aims to Civil Society Organisations fulfill their duties to provide a safe environment where children have the right to develop their capacity and are enabled to participate in society.
VOTC = Voice Of The Children
What need is ICC – VOTC Project meeting?
Cambodia is comprised primarily of young people. Approximately 32.6 percent of the population is under the age of 15 years, and more than 50 percent are under 21 years old. The majority of the Cambodian population is still poor, and lives from "hand to mouth". Many parents see no other option than to use their children for daily work. This can be harmless work at the house, so that the parents can focus on their jobs. But sadly Cambodia is well-known for child labour conflicting with the labour law. Children are being denied education so that they from a young age can work e.g. at brick factories and garment factories. In worse cases children are being exploited in the sex-industry and modern-day slavery. And it the worst case they are being trafficked. Power factor is money, and lack of enforcement of laws and policies.
Many Cambodian proverbs reinforce the idea that children are less valuable than adults. These proverbs are still spoken today even with the consequences of limitations to their children's development. "The cake is never bigger than the baking tin" was said to illustrate the fact that children should not surpass their parents, and "Bend the iron while the steel is hot" means that children should be disciplined early in life by adults.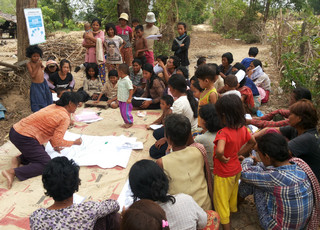 photo by NGET Heng/span>
The problem with the last proverb is that disciplining children in Cambodia doesn't always fall within the UN Convention's Rights of a Child which 194 countries have ratified and adopted into their domestic laws, including Cambodia.

The survey, "Speak Out" showed that only 14 percent of children in Cambodia felt "very safe".

ICC's VOTC Project believes that each child is unique and should be able to exercise their full rights. Children are Cambodia's greatest and most sustainable assets. To invest in them is to invest in Cambodia's future.
What work is ICC – VOTC Project involved in?
The VOTC Project believes that the best way to create a safe environment for children is by equipping and networking the community-based organisations which are already present and active in the target area. The churches in Takeo and Pursat province have proofed their confident and effectiveness of providing their best possible care and support for children in their communities.
The Voice of the Children Project will assist the churches to fulfill their potential by coaching and mentoring them to raising awareness about child rights/protection and parenting skills among other community-based organisations such as Buddhist leaders, NGOs/CSOs in the target area. This will build the networking and cooperation with each other for the best interest of the children.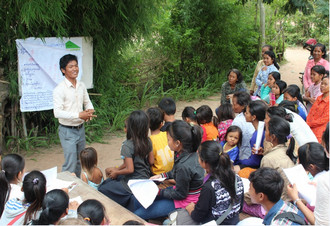 photo by Josefin Wikholm
By networking and speaking on behalf of children, through planting seeds of knowledge and change in civil society, the VOTC Project hopes to see a change in the way families bring up their children. This in turn, will positively affect the way children will bring up the next generation. VOTC envisions this program impacting positively upon the future of the nation of Cambodia as well in other parts of Asia.
The VOTC Project wants to see churches move from a point of awareness to actual realisation of the issues of child rights and be able to implement child protection policies. Churches/ families and NGOs will in turn impact their surrounding communities/target groups with the knowledge that they have received.
What are the hopes of ICC – VOTC Project?
Voice of the Children Project hopes to promote greater awareness about children and their rights, so that communities will become safer places for children. Greater respect for human rights generally, and children specifically, will contribute to the development of trust, which is an essential element in community development, civil society and economic progress.