ICC-VIDP Project
What is ICC-VIDP Project?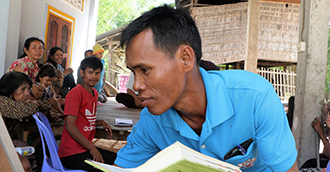 photo by VIDP
The ICC-VIDP Project inspires and equips local leaders and communities (including local church leaders and members) with a vision for having a better quality of village relationship and livelihood by empowering the communities wholistically using their own resources.
VIDP = Village Integrated Development Project
What needs is ICC-VIDP Project meeting?
ICC-VIDP achieves its purpose by emphasising empowerment and equipment of local churches and communities, in order to meet their spiritual and physical needs. Through ICC-VIDP project local leaders and communities are becoming more mature and more independent. They are able to help themselves using what they have in their villages. It is reducing their dependency on resources from outside their community.
In what ways does ICC-VIDP Project work?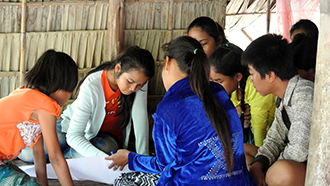 photo by VIDP
ICC-VIDP introduces the Umoja approach (One of the Church and Community Mobilizing approaches) to mother churches and independent churches. If they are interested, VIDP facilitates the learning process for pastors and Umoja facilitators (volunteers from the church) on how to use the Umoja approach. The project continues to support facilitators, coaching them in action and mentoring them. VIDP encourages pastors and elders to support the Umoja approach. The project coordinates learning groups who regularly meet to share their learning with one another. VIDP supports churches in their cooperation with local authorities, helping them to communicate vision and cooperate. VIDP supports the Umoja Steering Committee Cambodia to implement the vision and mobilisation of target churches and communities beyond VIDP's timeframe, and to other interested actors inside and outside the country.
The approach of Umoja is to build on individuals' and communities' own abilities and resources, enabling people to discover for themselves their potential to bring about change. Lesson learnt is that some development projects are dependent on injections of outside aid and often leave individuals and communities worse off after aid is finished. Umoja seeks to do the opposite: inspiring and equipping local people with a vision for determining their own future with their own resources. More details about Umoja Approach
What are the hopes of ICC-VIDP Project?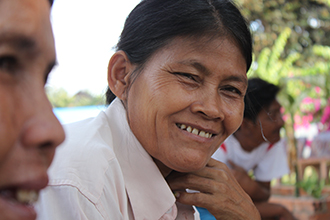 photo by VIDP
Church and community leaders and members are able to recognise their problems and to find long-term solutions together. They can identify their needs and resources and use their own resources without being dependent of outsiders. They do not just wait for help from the outside, but start to address their needs using their own resources. They can access help from outside, cooperating with the local authorities, development partners, and the private sector, in order to access finances, to learn new skills, to receive advice, and for greater participation. They continuously discuss together in groups, caring for one another without discrimination or division. Together they make their own decisions and make plans to fulfil the needs of their own community. The church and the rest of the community trust one another.