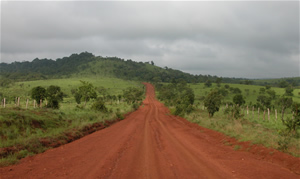 picture by Ari Vitikainen
Vision Statement
We want to see the least served communities in Cambodia transformed by God's love to experience restored relationships, sustainable livelihoods, competence to make wise decisions and sustainable gospel witness.
Interpretation
ICC's focus is on groups of people who are not being given enough attention e.g. not respected, not valued, not noticed, not heard. ICC wants these groups to experience inner and outside changes through God's love and thereby develop stronger life-values, self-esteem and behaviour. These groups will, through peace-building and forgiveness, experience inclusion and reintegration into core and extended relationships. Through their own resources, skills and ownership these groups will obtain security in covering their basic needs, and furthermore be empowered to take responsibility for their own decisions and actions. ICC also wants to see that Cambodian Christians are sharing God's love and gospel in a committed, honest and respectful way.
Mission Statement
Together we enable the least served through enhancing knowledge, sharing skills, and facilitating reflection.
Interpretation
In collaboration with beneficiaries and stakeholders ICC wants to empower the groups of people who are not being given enough attention e.g. not respected, not valued, not noticed, not heard. Such empowerment will be done via mutual recognition of the value of these groups' existing knowledge and skills, and by further building upon these resources. Also ICC and these groups want to learn from each other through processes of analysing and reflecting.
Core Value Statement
Serving attitude :: Sharing love and forgiveness
Cultural sensitivity: Towards the local cultures and history of Cambodia
Faith-based mindset: In line with ICC's Vision and Mission statements
Slogan
"Empowering Communities, Empowered Nation"
Strategic Focus I - Human Rights
To increase people's human values and self-esteem via right-awareness and understanding, including how to claim and fulfil the rights of the right-conventions that Cambodia has agreed to comply with. This will relate to right-holders as well as duty-bearers, and mainly be done through capacity-building. Furthermore advocacy will be done on various levels and through different stages in order to promote people's rights.
Strategic Focus II - Communities
To strengthen communities to conduct group formations, in order to improve their livelihood and to strengthen the civil society of the country. Emphasis will be on forming groups that are based on mutual values such as respect, collaboration, accountability, transparency and other key values identified by the group-members. Groups formed within the civil society could be e.g. spiritual, civic, labour or social.