ICC – RIDE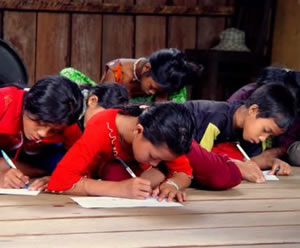 photo by Ari Vitikainen
What is ICC – RIDE Project?
ICC – RIDE Project is an integrated development project that works with indigenous communities in Ratanakiri Province to develop bilingual non-formal education and empower these ethnic minorities to provide for their basic physical needs and help strengthen civil society.
RIDE = Ratanakiri Integrated Development & Education
What need is ICC – RIDE Project meeting?
The mountainous highlands of north-eastern Cambodia are home to over 100,000 ethnic minority peoples who still speak their native indigenous languages, most notably Brao, Tampuan, Krung, Jarai and Bunong.
These minority groups comprise between 3-4% of Cambodia's population and make up the majority of the population in Ratanakiri Province. In this remote and isolated part of the country, indigenous communities often lack the basic infrastructure and social services found elsewhere in the country, making Ratanakiri one of the least developed provinces in Cambodia.
The future of these communities is also at risk because of the low levels of education amongst these indigenous people, in part the result of not having any written form of language for many years and the continued absence of these native languages within the local education system.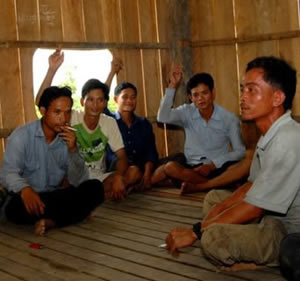 photo by Ari Vitikainen
In what ways does ICC – RIDE Project work?
ICC has been pioneering literacy and language development in Ratanakiri since 1996. In 1997, this work expanded to include development in the area of community health and, more recently, capacity building - all under the name of ICC – RIDE Project.
ICC – RIDE Project works in several villages in Laak, Eakepheap, Ochum, Taveng Leu and Taveng Kraom communes in Ratanakiri Province. We work with the Krung, Tampuan, Brao and Kavet ethnic minority groups as part of agreements signed with the Government of Cambodia.
In the area of literacy and language development, ICC – RIDE Project has developed teaching resources and trained volunteer teachers to provide bilingual non-formal education to local villagers in both their indigenous language and in the national Khmer language. These classes take place every evening in 19 different villages, and focus on increasing basic literacy in both languages along with basic numeracy and everyday life skills.
In the area of community health, staff at ICC – RIDE Project focus on community level education and training, which includes providing training to traditional birth attendants in an effort to reduce the number of complications related to childbirth, and ensure that mother and child survive the often traumatic birth of a child within the village home. In addition, we also help these villagers look after their health by providing nutrition and hygiene training advice along with technical expertise and materials for making water filters and building wells and latrines where they are needed.
In the area of community capacity building, we focus our efforts on strengthening civil society and enhancing the capacity for the indigenous people to make informed choices. One way this is done is through awareness-raising within local communities about cross-cutting issues such as land rights, gender rights and other issues raised by the communities themselves.
We are always keen to ensure that our education materials are developed with the input of the local community and that the illustrations and topics we use are relevant to the context of the indigenous people living there.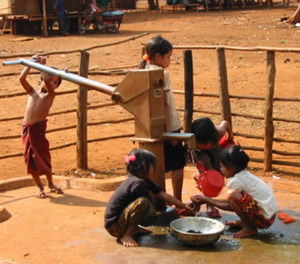 It is just one of the ways in which we seek to involve local people in our work and give them the tools they need to provide for their basic needs, for both today and tomorrow.
What are the hopes of ICC – RIDE Project?
ICC - RIDE Project has increasingly adopted a village-based approach to community development, equipping local people to define their own development needs and determine the best ways of addressing them.
Our hope for these ethnic minority communities is that they will become increasingly capable and confident of making informed decisions about their future and the changes affecting their livelihoods, language and cultural practices. We long for these tribal groups to make a vital contribution to the overall future of Cambodia.