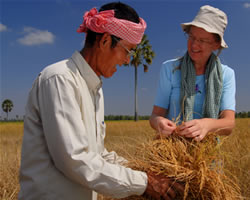 picture by Ari Vitikainen
ICC models a unique approach to development, combining the experiences and resources of the following four international agencies to create one locally-based organisation:
InterAct is a church and mission movement based in Sweden with a vision to see "growing churches bring the whole gospel to the whole man all over the world". Some 150 missionaries are engaged in InterAct's international ministry, in co-operation with 60 international partners. InterAct describes its identity as Baptist, evangelical, charismatic and mission-oriented.
Normisjon is a voluntary and independent mission agency within the Lutheran Church of Norway, with its focus on fellowship and mission. Normisjon wants to reach the unreached and make disciples by carrying out extensive activities in 10 countries in Asia, Africa and Latin America.