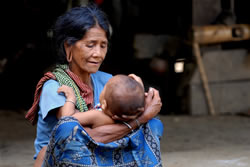 picture by Ari Vitikainen
International Cooperation Cambodia (ICC) is a partnership of International Christian Mission and Development Agencies committed to working together to serve the poor and marginalised of Cambodia through a single, locally based organisation.
There are currently of two Member Agencies (MAs):
InterAct Sweden
Normisjon Norway
Each Member Agency has a broad range of other partnering organisations and funding partners.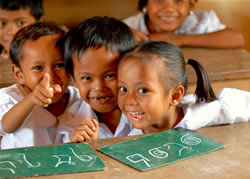 picture by Ari Vitikainen
Involvement
ICC carries out relief and development work amongst the Cambodian people, in the areas of language development, family welfare, education, healthcare, food security, agriculture, income generation, leadership development and other activities that improve the well-being of people and communities around Cambodia. Whilst focusing on development activities, the spiritual objectives of the partners are met through the open Christian environment of ICC, the personal commitment of the overseas volunteers and the many nationals who are Christians amongst the staff. Several of the projects work directly with the national churches as one of their partners.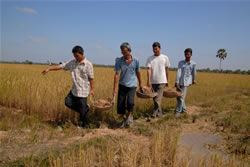 picture by Ari Vitikainen
Origins of ICC
On 11 October 1991, World Concern signed a Protocol of Agreement between World Concern Int. and the Government of the State of Cambodia. The oral health work at the Dental Faculty started with this agreement. Later in 1992 the Dental Nurse work started.
Work in Ratanakiri began with Interact and Danish Santal Mission seconded staff and project funding. World Concern was carrying the administrative costs. In 1997, a suggestion was made to form a partnership to be known as International Cooperation Cambodia (ICC) based on those three agencies. The purpose of ICC was to engage in Sustainable development with Christian impact.
Founding [History] of ICC
The partnership was constituted as an international body of three non-governmental agencies (World Concern, InterAct and DanMission) in Bangkok, Thailand on 27 November 1998. On 29 December 1999, registration as ICC was approved by the Ministry of Foreign Affairs (MoFA) of Cambodian.
The strength of the partnership involves:
1. Collective wisdom would lead to better decisions and we could combine our giftings to make projects more effective.
2. With so much denominationalism within the church and missions it was important to demonstrate unity.
3. We should maximise use of limited.
In succeeding years, the following organisations have been Member Agencies (MAs) of ICC: World Concern, Cambodia Action (SAO), InterAct, DanMission, SIL International, Finnish Evangelical Lutheran Mission (FELM), Normisjon. SIL who had also been working in Ratanakiri since the mid 90s, joined in late 1999, recognising that they could not do literacy work on their own in Cambodia without the logistical support of the ICC partnership.
By late 2000 SAO (now known as Cambodia Action) applied to join the partnership, bringing its expertise of development work in Cambodia since 1991. The partners in ICC came to be known as Member Agencies and grew to five with the admission of the Finnish Evangelical Mission (FELM) in November 2006 but World Concern withdrew due to a strategic change of focus. DanMission and FELM left the partnership to focus on more local partnerships. Furthermore, SIL International changed their status as a member agency to a supporting partner by end of 2017.