What is ICC-iBCDE Project?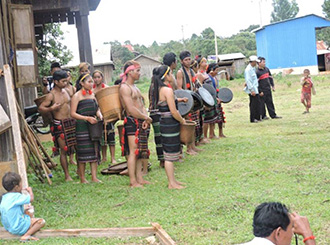 photo by ICC-iBCDE
ICC-iBCDE Project works to see that the "indigenous minority communities in the Northeastern region of Cambodia have dignity and a mindset of possibilities to help themselves adapt to a changing context, are advocating for their rights and participating as valued and active members of Cambodian society."
iBCDE = identity Based Community Development and Education
Where are we located?
In the northeastern provinces of Ratanakiri and Mondulkiri.
Who are the iBCDE Project Staff?
Almost all of the approximately 50 staff members are themselves from the targeted indigenous minorities groups and have strong personal commitment to see their own communities develop according to the iBCDE goal.
Why are we doing what we are doing?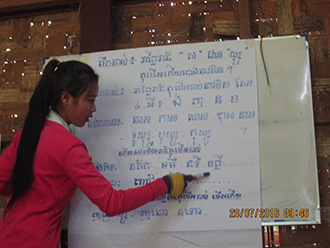 photo by ICC-iBCDE
Many of the current staff have experience of working with ICC in the previous ICC projects in the region (RIDE, READ) and have been designing the iBCDE project to be effective in the current context, using the skills of the staff.
Until the mid-1990's, Northeast Cambodia remained isolated with forest cover intact. However, logging concessions (and illegal logging), industrialized agriculture, and immigration from lowland provinces have eroded traditional livelihoods. Some community members are trying to adapt and survive by subsistence farming alongside Chinese/Khmer industrial plots; however, they no longer have the land to use their traditional methods, and their plots lose nutrients. Others are seeking new forms of wage labor on an industrial plantation or logging concession. Economically, the loss of traditional livelihoods, and the resulting changes in family and community roles, have deprived the communities of functional gender roles and left them increasingly vulnerable.
While the Cambodian government has provided the indigenous people with many rights, they are still experiencing rapid disempowerment. Historically, the ethnic minority communities have benefited from strong social relationships and sustainable livelihoods, but these are shifting as a result of the dramatic changes to their environment and livelihood, and therefore to their social structures, culture and identity.
Communities are ill equipped to find their ways to handle these new external pressures and they struggle to participate in governance processes. Few community members speak Khmer, Cambodia's official language. Most cannot read or write, and even fewer know how to engage in institutions which to them operate in a way which is culturally foreign to them.
ICC is uniquely positioned, due to its investment in understanding language and culture and capacity building of indigenous minority staff, to connect with communities around these deep issues of cultural and societal change.
How do we work?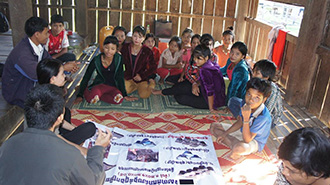 photo by ICC-iBCDE
The ICC-iBCDE project aims to empower the communities for reflection and action related to three interrelated parts of their lives, culture/community, education and environment. Central to iBCDE are dialogue teams who build close connections with villages. These dialogue teams operate with a cultural grid on development, seeing the process of cultural change as central to the issues that indigenous minority communities are facing in Northeastern Cambodia.
Dialogue teams are supported by three technical teams focusing on Community Wellbeing, Culturally Relevant Education, and Improved Indigenous Livelihoods. These teams provide technical support in the creation of awareness raising materials and activities, and in training which responds to community initiatives resulting from community organization and plans. The technical teams also network and conduct relevant action research to ensure that they can provide the best possible service to community action groups and education service providers. Additionally, appropriate media teams provide the technical skills of material and audio visual production in the creation of awareness raising and training materials.
The following objectives guide the activities of the iBCDE project: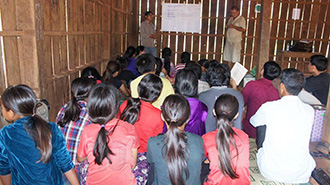 photo by ICC-iBCDE
Objective 1: Community Wellbeing
Desired Change: Indigenous minority communities are aware of the social and cultural change happening in their community, and are taking action to ensure that this is congruent with their desired future.
Objective 2: Culturally Relevant Education
Desired Change 1: Indigenous minority communities understand the purpose of education and are taking increasing ownership of education in their village.
Desired Change 2: Local educators (formal and informal) in indigenous minority villages have the capacity to fulfil educational rights.
Objective 3: Improved Indigenous Livelihoods
Desired Change: Indigenous minority communities are able to sustain and improve valuable natural and agricultural resources in the face of societal and environmental change.
Objective 4: Strong Indigenous Networking
Desired Change: Indigenous minority communities are able to effectively connect with one another and have a stronger voice to greater society.
Who are we targeting?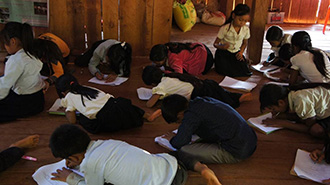 photo by ICC-iBCDE
The ICC-iBCDE project targets members of the marginalized ethnic minorities of Ratanakiri and Mondulkiri provinces in North-eastern Cambodia. Currently, the focus is on Brao, Krung, Tampuan, Bunong and Jarai communities, which are relatively remote and, as much as possible, not served by other NGOs. Communities have also been chosen based on their initial willingness to work with their own resources and their interest in community participation.
In addition, ICC continues to advocate and collaborate with the government at different levels, especially in areas related to education. ICC cooperates with other NGOs to coordinate its activities, avoid duplication and serve communities by resource linking on areas outside of ICC's core expertise.