ICC – SPPA Programme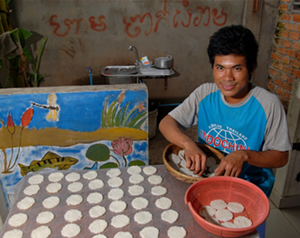 photo by Ari Vitikainen
ICC – SPPA Programme works with villagers from poor communities to help them establish micro-enterprises that can provide a regular and reasonable income, enabling them to meet their basic needs and care for one another.
SPPA = Skills Promotion Poverty Alleviation
What need is ICC – SPPA Programme meeting?
ICC – SPPA Programme was established in 2002, motivated by the realisation that although Cambodia is a country rich in natural resources, many people in both rural and urban areas remain very poor. This is in part due to a lack of knowledge of how to effectively use agricultural produce and other natural resources to create value-added products that will boost the local economy.
In addition to this, ICC – SPPA Programme began to realise the need for an organisation to serve as a 'bridge' between the rural population, who often have access to natural resources and basic processing skills, and the urban population, who tend to have greater understanding of mass production and experience in accessing markets where their products can be sold.
In this context, ICC – SPPA Programme was created with the aim of combining the principles of community development with the principles of business and commerce to begin meeting the needs of villagers from poor communities.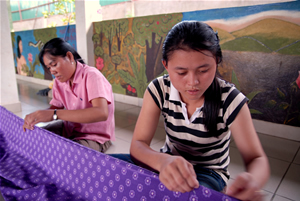 photo by Ari Vitikainen
In what ways does ICC – SPPA Programme work?
ICC - SPPA Programme accomplishes its mission by partnering with other organisations, including local churches and other non-governmental organisations (NGOs) based in Phnom Penh and nine other provinces around Cambodia.
Our staff work alongside these partner organisations to identify villagers who lack a regular source of income and are unable to care for themselves or their families. These villagers are then provided with training and direct support to establish a micro-enterprise that can collectively generate income for the group.
Those belonging to the micro-enterprise are encouraged to adopt Christian values such as integrity, transparency and selflessness as a means of ensuring that the micro-enterprise is a success and benefits all who are involved. In addition, these groups are encouraged to use locally-available, sustainable materials to create their own unique product range as means of generating an income for the group.
The range of products currently produced by our micro-enterprises include bamboo furniture, hand-sewn cushions and mattresses, palm sugar, sweet soy sauce, cashew nuts, sticky rice crackers, shredded meat and other healthy food alternatives.
What are the hopes of ICC – SPPA Programme?
In 2006, ICC - SPPA Programme established the 'Two Deer' label, providing our micro-enterprises with one brand name under which they could market and sell their products.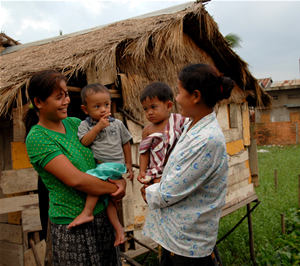 photo by Ari Vitikainen Since this time, Two Deer products have found their way into hotels, restaurants, shops and markets across Cambodia, with the profits being returned back to the micro-enterprises themselves.
Since the inception of ICC – SPPA Programme, we have seen families from different parts of Cambodia not only benefit economically from their micro-enterprise, but also grow in confidence and self-belief as they learn new skills and are able to access education and healthcare previously unavailable to them.
As part of our commitment to our partners, ICC – SPPA Programmes hopes to increase the capacity of each of our partners, enabling them to directly oversee the work of their micro-enterprises and provide training for other groups of villagers in their local area to setup their own micro-enterprises.
As part of our commitment to villagers from poor communities, we hope to empower them to operate successful, independent micro-enterprises that provide a 'gateway' for families to escape the cycle of poverty and begin to care for one another while having their physical and spiritual needs met.